Recent developments
During the summer of 2019, we restored the roof of the Main Hall, which had been showing serious signs of wear and tear. You can see the results in the picture above.
More recently, we have begun to refurbish our kitchen in time for our first visitors of 2020. We'll post full details with pictures as soon as the work is finished.
Our sincere thanks go to the Hall Garth Charitable Settlement for a generous donation which has enabled us to carry out both sets of work.
Malcolm Hoad
As the Camp enters a new decade, we remember that its continuing development owe a huge amount to the dedication and goodwill of our volunteers.
Malcolm Hoad, who sadly died in December 2018, gave invaluable service to the Camp for many years. For Camp users, he was often the first contact and "Voice of the Camp" as Booking Officer. Group organisers spoke of his helpfulness and courtesy as dates, times and costs were agreed. Fellow Trustees and Friends also recognised his important and skilled work as Camp Treasurer. He is sorely missed.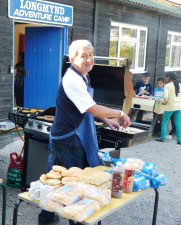 Malcolm in hospitable mode at the Camp barbecue.